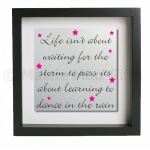 Dance In The Rain Metal Wall Art£16.95
Metal wall art mounted within a box frame. The design reads Life isn't about waiting for the storm to pass, its about learning to dance in the rain. Available with black or white frame.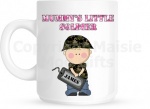 Mummy's Little Soldier Personalised Mug£8.99
A personalised ceramic mug featuring a cute Mummy's Little Soldier design. The mug is available with three boys with different hair colour.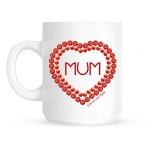 Personalised Mum Heart Mug£8.99
A classy personalised mug design. This mug makes an excellent gift for your mum.