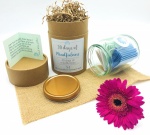 Mindfulness Gift Jar - 30 Days of Practical Tasks & Mindful Vibes - Includes Colour Coded Notes - Destress - Reduce Anxiety - Mental Health & Wellbeing - Relaxing Wellness Guide - Self Care Practice£14.99
30 days of mindfulness in a gift jar incorporating attitudes of mindfulness, mindful vibes and quotes and mindful activities to practise.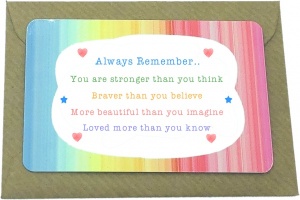 Always Remember You Are Stronger Than You Believe Metal Wallet Card£3.99
The perfect little gift to give to someone who may be lacking in self confidence or self esteem. Remind someone how awesome they are!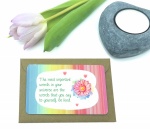 Be Kind Self Care Reminder Metal Wallet Card£3.99
A cute little wallet card gift with a self care message to be kind to yourself.